Many people have asked us why we declined the opportunity to exhibit at the W14 show in the N.E.C. in Birmingham this year, especially as it is such an important and well attended exhibition. In fact we have always had a good response from these shows, especially W8  back in 2008 (please see photo of our stand below).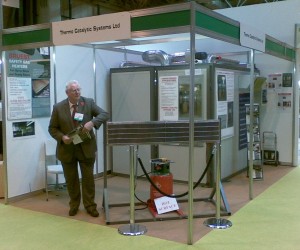 The answer is that the exhibition comes at a time when demand for our flameless gas catalytic infrared heaters is very very high anyway. October is the time of year that forward-looking  furniture manufacturers, shop-fitters and joiners start thinking about a safe and economical means of heating their spray booths and drying rooms before the drying times just get too long and the staff too chilly !.
So, in recent years we have decided instead to invest in stock and in keeping our prices as low as possible. In fact, we have not increased the price of our standard 10.5 Kw heater since 2010. So if you are looking for an ATEX certified heater that will keep your insurance company happy please don't hesitate to give us a call.