We're ready for winter, are you ? We currently have in stock our standard model, the 12″x 72″.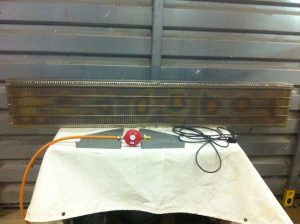 This provides 10.5 kW of heat from propane ( bottled/tank) gas or 12.66 kW when set up for Natural ( mains) gas.
The heater comes complete with :
Stainless steel protective face grill.
Wall mounting brackets as required
Suitable heat-resistant cable ( for pre-heat- 20 minutes only) to allow you to reach out of the hazardous area to an ordinary 3-pin, 13 amp socket
1/8″ brass pressure test point(s)
armoured flexible gas hose- 1/2" x 2 foot long
fine adjustment needle valve (to control heat output)
suitable G.B. approved manual isolating lever ball valve ( to shut down the heater)
Gas pressure regulator (to fit onto a propane gas bottle)
ATEX certified brass reducing bush and ATEX certified brass cable gland.